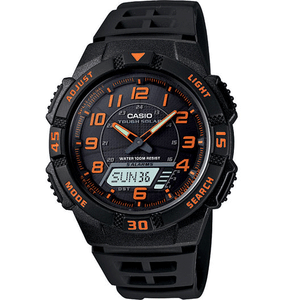 SHIPS FROM USA same business day
Utilizing a unique Self- Charging solar power system, this sporty analog/digital combination model provides plenty of functionality. A host of features such as 48-city world time, 5 alarms, stopwatch and dual countdown timers make this a versatile timepiece for almost any sport outing. Black resin band analog and digtal watch with Black/Orange face.
PRODUCT INFORMATION
Profile:   Men
Watch Shape:   Round
Watch Design:   Sports
Watch Calibration:   Chronograph
Watch Format:   Anadigi
Movement:   Solar
Number of Faces:   1
Main Dial Color:   Black
Screen Type:   LED
Glow Type:   Backlight
Watch Case Color:   Black
Watch Case Material:   Resin
Watch Case Height:   0.42"
Watch Case Width:   1.65"
Watch Case Depth:   1.87"
Watch Case Diameter:   1.65"
Wrist Band Material:   Resin
Wrist Band Color:   Black
Wrist Band Type:   Strap
Alarm Type:   Daily
Application/Usage:   Sports
Features:   Countdown Timer
Features:   World Time
Features:   12/24hr Format
Features:   Battery Indicator
Features:   Calendar
Features:   Language
Features:   Power Save Mode
Features:   Stopwatch
Band Width:   0.70"
Watch Case Thickness:   0.39"

Reliability
Water Resistance:   328.08 ft
Durability:   Water Resistant

Physical Characteristics
Weight (Approximate):   1.16 oz

Miscellaneous
Additional Information:  
Hourly Time Signal
Measuring capacity: 59'59.99"